Synopsis
Kellen Handler is in deep.
Ever since he can remember, he's wanted to be a professional surfer. And he made it, rising to the top of the ranks, traveling the world and riding every break he's ever dreamed of. His good looks and reputation for living on the edge—both in and out of the water—have made him an international superstar. But when his best friend dies in a tragic accident, Kellen wipes out big time, spiraling so badly that everything he's worked for starts to disintegrate.
Tour officials scramble to do damage control and demand he work with a public relations company to clean up his bad boy image. It doesn't help that the person assigned to him, Gina Bellori, has her own demons associated with the surfing world.
Against her better judgement Gina accepts the job and concentrates on repairing Kellen's tattered reputation, despite his protests and despite the pain it causes her. With her past colliding with her present—and Kellen in the thick of it—she begins to realize that some secrets can't stay hidden.
And suddenly, Kellen Handler is no longer worried about losing his career.
He's more worried about losing his heart.
My Take
If you've been following my reviews, then it's no secret to you that I love a good Anna Cruise book. Maverick definitely delivers. In fact, dare I say it, it may just be my favorite of her books. There's a shortage of bad boy surfers in the literature arena, so Kellen is a refreshing addition to the book boyfriend shelf.
When we first meet Kellen, he's waking up from a drunken night of debauchery with another conquest, whom in his mind can only remember as "Ch."
Chelsea? Cheryl? What was her name? Something with a Ch.
Now before you go thinking, "that dog!" you need to know that Kellen makes no promises, he's not a womanizer. He's up front with the fact that he doesn't do relationships, so if the women still go with him, well, that's on them.
He leaves Ch to head to his surfing competition, barely making it on time, and still smelling of booze. He goes out and surfs well, but then blows off interviews and a chance at a new sponsorship, much to the chagrin of the surfing tour's leadership. You see, a recent tragedy took the life of Kellen's best friend, and his life has been in a downward spiral ever since. Because of that, the surfing tour has hired a professional to help clean up Kellen's image. Kellen, of course being the hot-headed male, refuses the help, claiming that he doesn't need it.
Unfortunately for Kellen, an unexpected situation later that night causes him to end up in a drunken brawl, so the tour draws the line in the sand. Accept the PR help, or you're out of the tour.
Enter Gina Bellori, the young, attractive professional who's going to be Kellen's one stop shop to a better reputation. Gina has a hidden past that leads to her aversion to surfing, so she wants to be there about as much as Kellen wants her. Ever the professional, Gina sets about changing Kellen's image, which leads to them spending a lot of time together. It doesn't take long for them to be drawn to each other, effectively blurring the lines between professional and personal.
I didn't want to fuck Gina. I mean, I did, but not right then. What I wanted was her. Not her body and not what she could do to me or give me. I wanted her.
Kellen wants to know Gina, all of her, but will her past issues with love, loss, and surfing keep her from letting him in, or is Kellen just the man she needs to finally be able to let go and move on?
*****
I LOVED this book. It had all the elements that I like in a good love story. It was equal parts funny, sad, and heartwarming. Both Gina and Kellen are fucked up. They both have baggage. And they are both exactly what the other needs to heal the pain that's been set so deep within their hearts.
Gina frustrated the crap out of me, but it was understandable once you learned the truth about her past. It wanted to smack her and tell her to run, not walk, into Kellen's arms. I knew her resistance was futile, and I kept wanting her to finally realize how perfect they were for each other.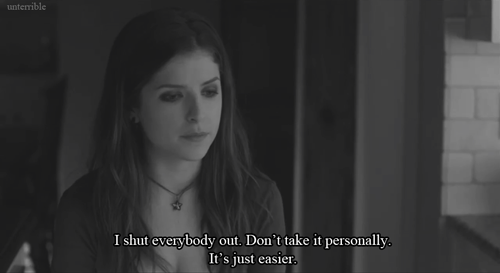 And another plus to this book is the steam! Anna Cruise wrote some of her steamiest scenes in this one, and I loved it! The sexual tension radiates off the pages as Gina tries to resist all that is Kellen Handler.

To be honest, I really have no complaints about this book. The only one I could possibly come up with is that I want MORE. I want more of Kellen & Gina in a relationship. I could read another full book about them just to see them interacting as a true couple. And when my only complaint is that I want more, I think that means it was pretty. damn. good.
Last but certainly not least, there's one notable character that puts the cherry on top, the icing on the cake, the ice in my vodka. Let me introduce you to...
Yes, our bad boy, sexy surfer is the proud owner of an adorable black cat. I've never loved an animal more in a book than I loved Rip. He was a perfect addition to showcase Kellen's softer side. Seriously, not only do we get a hot surfer, we get a hot one who owns and loves an adorable cat. Does it get any better??
a Rafflecopter giveaway